Blog
Best Places To Take Engagement Photos in North Georgia
Recently engaged? Congratulations! Now, you're looking for the best places to take engagement photos near you. In beautiful North Georgia, there are so many incredible places to take engagement photos. To make the search easier for you, we've listed some of our favorite outdoor photoshoot locations below.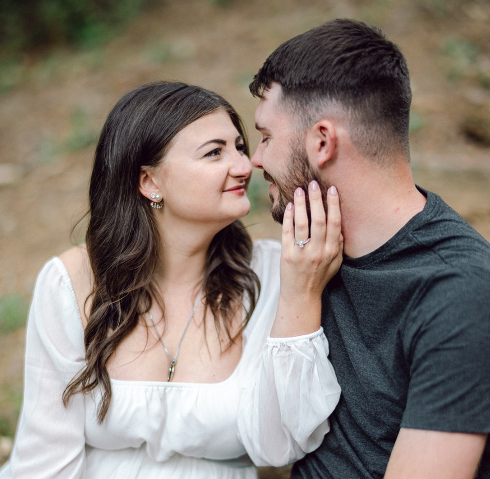 Top 5 Places to Take Engagement Photos in North Georgia
If you want a gorgeous outdoor photoshoot location and are willing to commit to a small hike, Amicalola Falls is an incredible place to take engagement photos. Nestled on the cusp of the North Georgia mountains and only 8 miles from the Appalachian Trail, this state park offers breathtaking vistas, incredible sunsets, and a connection with nature. But the jewel of this area is Amicalola Falls, a 729-foot waterfall that creates a stunning backdrop for any photoshoot. From the changing colors of fall to the fresh green growth of spring and summer, this state park offers beautiful and versatile scenery all year long. You and your partner will love remembering your engagement framed by the gorgeous views of Amicalola Falls.
Downtown Dahlonega maintains a historic charm and small-town comfort with tree-shaded brick pathways, vintage buildings, and mountain scenery. Take engagement photos in front of historic buildings and doorways, along the sun-dappled pathways, or in the shadow of North Georgia mountain vistas. Downtown Dahlonega offers unique and beautiful outdoor photoshoot locations to celebrate your engagement and create incredible memories. Plus, with the numerous art galleries, local shops and restaurants, and frequent live music, you'll want to make a day trip of taking your engagement photos in Downtown Dahlonega.
P.S. If you want holiday engagement photos, Downtown Dahlonega offers incredible trees, lights, and holiday celebrations to create a stunning, festive backdrop.
Looking for beautifully curated gardens and gorgeous in-season flowers to set the scene for your engagement photos in North Georgia? Then Gibbs Gardens is a must-see. Located in Ball Ground, GA, Gibbs Gardens boasts 300+ acres of carefully maintained gardens which include ferns, native azaleas, dogwoods, mountain laurels, and so much more. The area also includes 24 ponds, 32 bridge crossings, and 19 waterfalls, creating numerous versatile spaces to take incredible outdoor engagement photos.
However, the crown jewel of Gibbs Gardens is their annual Daffodil Colorfest between early March and mid-April. During this time, millions of daffodils bloom across the property – the largest collection of daffodil blooms in the nation. Talk about an incredible backdrop for your North Georgia engagement photos!
When it comes to farm photoshoot locations in North Georgia, you can't beat Cold Creek Farm. This natural, scenic area features forest pathways, a gently flowing creek, and plenty of beautiful trees, flowers, and arbors to give you versatile backgrounds for your engagement photos. If you like animals, Cold Creek Farm is also a working farm with dogs, cats, chickens, horses, and donkeys. You and your partner will love exploring the farm to find the best areas to take your photos!
If you love lavender and flowers, Red Oak Lavender Farm near Dahlonega, GA is the place to take your outdoor engagement photos in North Georgia. This gorgeous lavender farm boasts 4,000 lavender plants in 19 different varieties to fill the air with incredible scents. From spring to fall, numerous flowers also bloom around the farm including sunflowers, tulips, dahlias, zinnias, and more. Red Oak Lavender Farm is an incredible place to take elegant, gorgeous engagement photos.
Looking for a Wedding Venue? Check Out Cold Creek Farm!
After taking your stunning engagement photos, you'll be looking for a North Georgia wedding venue for your special day. Consider Cold Creek Farm! We are a barn wedding venue in North Georgia that has helped hundreds of couples celebrate their love over the last decade.
Our all-inclusive wedding venue is also perfect to help you select the best caterer, photographer, coordinator, DJ, and more to create your best wedding day. Contact us to learn more about our unique farm wedding venue and view our Venue Features to see details!
---
‹ Back