Blog
4 Tips for a Rainy Wedding Day
After months of planning, the week of your wedding has finally arrived…only to show a forecast of rain on your wedding day. A rainy wedding day may feel like the worst-case scenario, but did you know it is actually a sign of good luck? Rain doesn't have to ruin your special day, especially if you're prepared. Check out our tips for making the most of your rainy wedding day!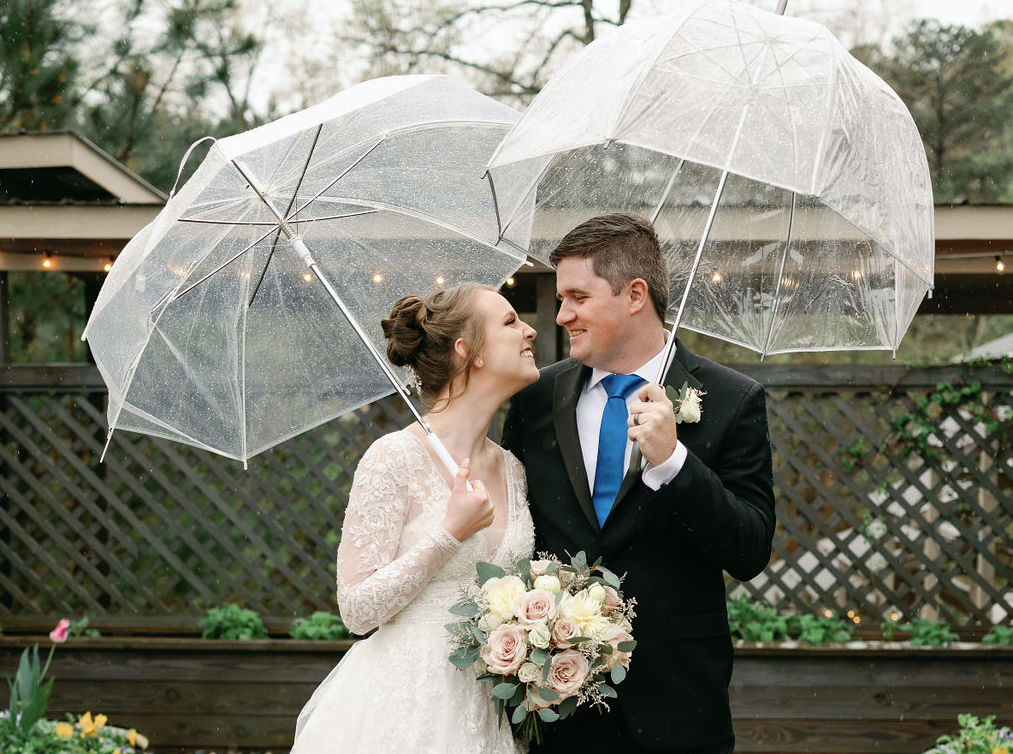 4 Tips for a Rainy Wedding Day
Take a Deep Breath and Go with Plan B
Although your ideal wedding plan may have involved an outdoor ceremony, bonfire, or food trucks, don't let the rain ruin your special day. Take a deep breath and go with Plan B.
That's why having a secondary wedding plan in place in case of rain is so important. Work with your wedding venue and coordinator before your wedding to explore options for an indoor ceremony or tents so you can still have your dream wedding – just with a slightly different setting.
Make Sure You Have the Right Supplies
If you see a high chance of rain or storms leading up to your wedding day, go ahead and get the right supplies in place. Purchase umbrellas, towels, blankets, and even rainboots for you and your wedding party to help you stay dry. It's always a good idea to be prepared ahead of time instead of scrambling the morning of your wedding to get everything you need.

Protect Your Dress
To prevent a muddy or wet hem, make sure you take steps to protect your wedding dress. You can buy a bridal petticoat (even available for mermaid and trumpet-style wedding dresses) that will lift your hem slightly off the ground. You can also bustle the back of your dress to make sure the train doesn't get wet. If you don't have either of these options available, have someone ready to carry the back of your dress whenever you have to walk outside.
Embrace Unique Photo Opportunities
Maybe you can't take the sunny or golden hour wedding photos you envisioned, but that just means you get to be creative! Embrace unique photo opportunities with umbrellas and rainboots while letting the rain create a glittering backdrop. Or, if you have a warm summer shower, just lean into it! Take photos of you and your partner dancing or strolling in the rain to create photos you will treasure forever.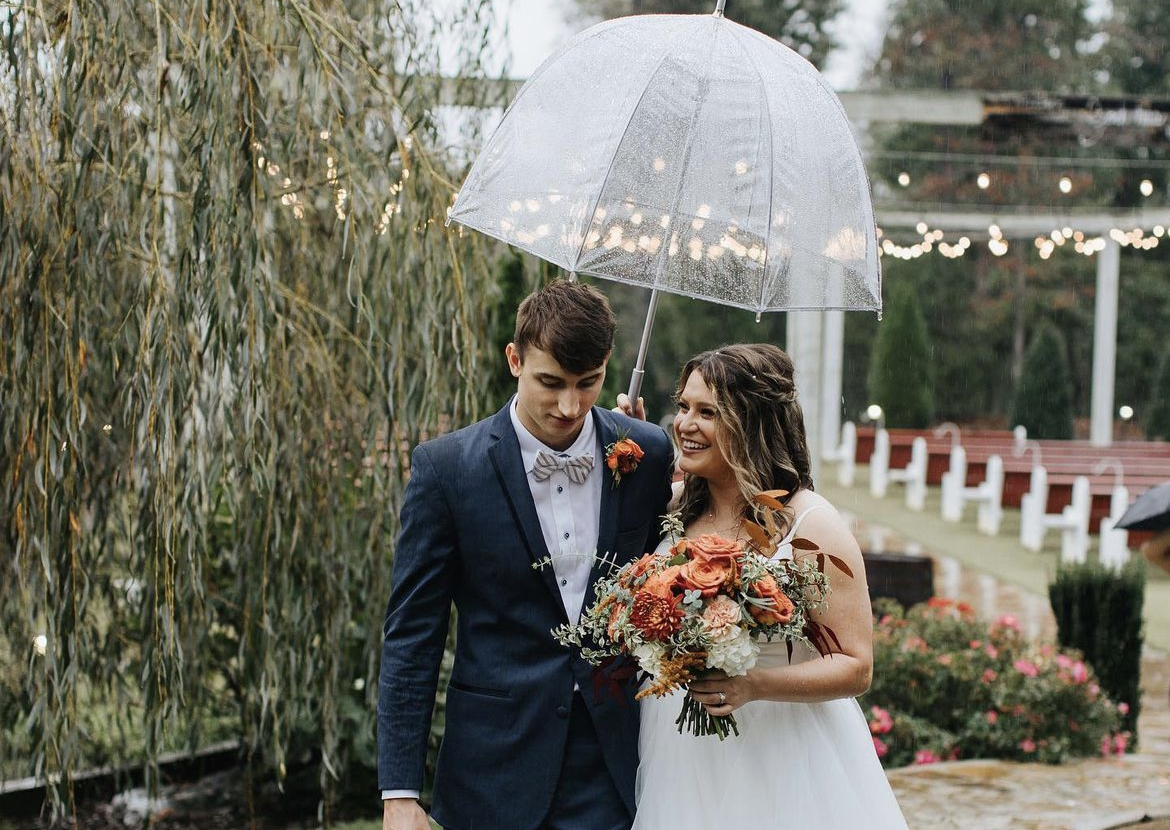 How We Make the Most of Rainy Wedding Days
Cold Creek Farm, our North Georgia barn wedding venue, has indoor and outdoor spaces so we are always prepared in the event of rain. Our primary ceremony space is outdoors with a flagstone walkway and pew seating, and we have a roomy indoor barn space for the reception.
On rainy wedding days, we transform the barn into a dual ceremony and reception space. For the ceremony, we arrange the wedding altar of the couple's choice in front of our beautiful white barn wood doors. This creates a stunning backdrop with plenty of natural light. Then we arrange guest seating in front of the altar with a roomy aisle for the couple and wedding party.
Following the ceremony, we direct guests to the opposite side of the barn for cocktail hour while we flip the space for the reception. Our staff works quickly to rearrange tables and chairs so guests can start comfortably finding their seats. That way, everything is in place for the couples' grand entrance as the reception starts.
Our numerous indoor and outdoor locations also create plenty of photo opportunities even in the rain. Our covered porch, garden area, draping willow tree, and more create stunning backdrops for wedding photos.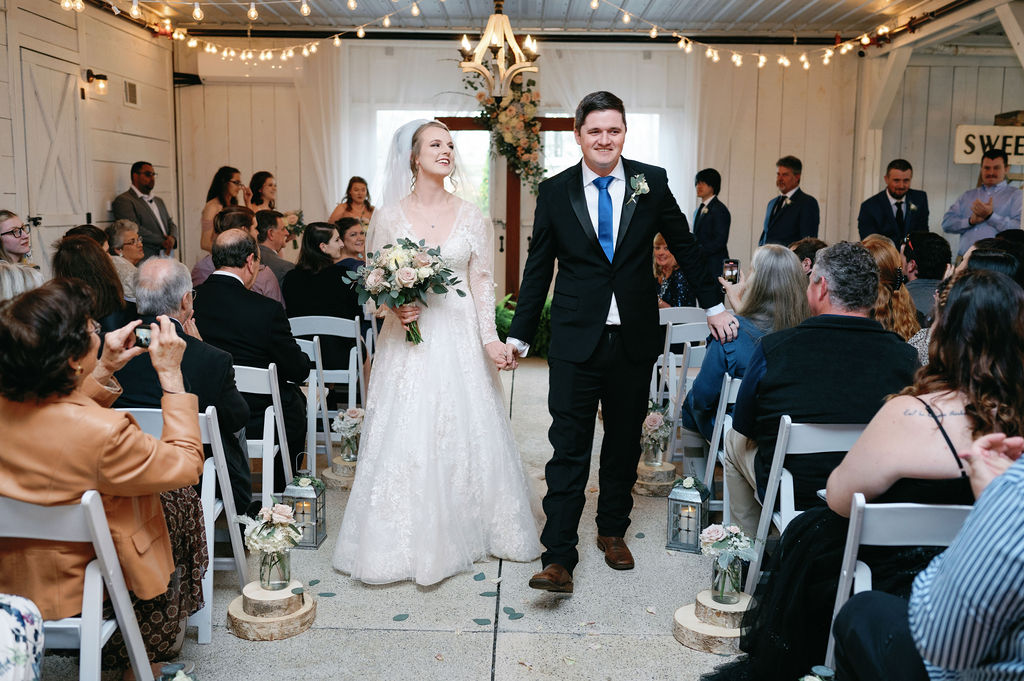 Learn More About Our Indoor/Outdoor Wedding Venue
With the right wedding venue and secondary plan in place, your rainy wedding day just becomes a fun story to tell! That's why it's always a good idea to be prepared for whatever Mother Nature has in mind for your wedding day.
If you're looking for an indoor/outdoor wedding venue in North Georgia that can help you create a beautiful wedding day regardless of the weather, check out Cold Creek Farm. We've helped hundreds of couples celebrate their special day, and we'd love to partner with you too. Learn more about our venue by seeing Venue Features or contact us for more information!
---
‹ Back