Blog
28 Unique Ideas For Your Wedding Reception That Will Amaze Your Guests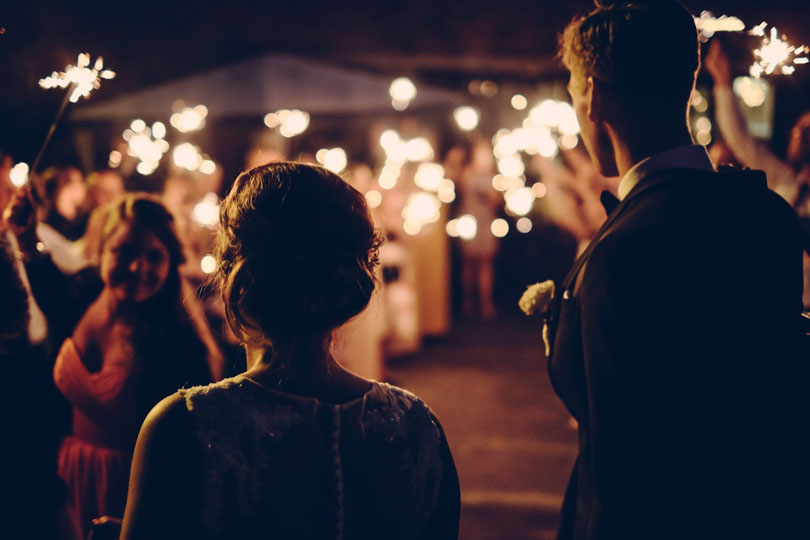 Planning for your special day is some of the most frustrating fun you can have. Taking all the ideas you've pinned and turning them into reality is always magical. Walking the line between the photos and ideas that have inspired you and coming up with unique wedding reception ideas can be tough.
Take a look at these 28 unique ideas for your wedding reception that will amaze your guests.
1. Choose a Non-Traditional Cake Topper
Gone are the days of the same old plastic bride and groom on the top of the cake. These days, almost anything goes. Choose something that suits your color scheme (initials? names? flowers?) or something that goes with the theme of your wedding. If you're going rustic, some wood rounds with your names custom laser-engraved!
2. Choose Useful Favors
Ditch the wedding bubbles and key chains with your names on them! Choose a useful favor that your guests will actually use instead of tossing into the trash or a junk drawer.
Try some hand-made soaps with custom packaging, or a mini bottle of wine with a custom label. Not only are they memorable, but they're something your loved ones will actually be happy to take home with them.
3. Don't Want to Toss Your Bouquet? Make a Scratch-Off Lotto Ticket Bouquet
Choosing your flowers and bouquet is a really special thing, so we really can't blame you if you're not ready to give it up just yet. One thing you can do to hang on to your bouquet and the bouquet-toss tradition is to make a lottery ticket bouquet.
This is a simple, easy craft and a crowd-pleaser. Some lucky single lady might be going home with a couple extra dollars.
4. Have an Artist There Painting the Scene
Having an artist at your wedding is a surefire way to make your reception special! Live painting is one way to capture your special day in a really special way, on a medium that you will cherish for the rest of your lives.
5. Have a Themed Cocktail Hour
Do you really love the roarin' 20's? Or were the 90's your jam? If so, ask your guests to bust out their flapper dresses or spaghetti strap velvet dresses and invite them to a costume party themed cocktail hour.
6. Entertain the Gentlemen with a Cigar-Rolling Station
Okay, this doesn't just have to be for the gentlemen, ladies can enjoy it too. Set up a place with supplies and perhaps even a tobacconist and invite your guests to make some hecho a mano -- hand-rolled cigars.
7. Offer Board Games for People Who Don't Dance
Not everyone wants to cut up the dance floor! If some of your loved ones don't love to dance, provide some games for them to enjoy so they don't feel awkward sitting and watching. Non-dancers want to have fun, too!
8. Don't Like Cake? Try a Pie Bar
If cake isn't your jam, an assortment of pies might be! This is something different and also gives your guests an opportunity to try something different. If you have a good variety of pies, chances are most of your guests will find something they like.
Also, you don't have to do a pie bar instead of cake. Go crazy and have both.
9. Offer an Outdoor Space (Or an Indoor Space If It's an Outdoor Reception)
Nobody wants to be cooped up indoors for hours (or alternatively, stuck outside for hours). Providing some alternative seating indoors or outdoors just gives your guests more opportunities to enjoy your reception and remember it as the best-planned reception ever.
10. Surprise Guests with a Choreographed Dance
Take some dancing lessons with your future hubby or wife and learn a dance together. It doesn't have to be your classic waltz -- find someone to choreograph a dance to your favorite song. It's your day!
11. Have a Whiskey or Wine-Tasting Station (Or Both!)
Having a whiskey or wine-tasting station is a perfect way to get your guests mingling and lets them have a little fun. Have a few bottles of the whiskey and wines available for purchase in case your guests find something they really love, or have a list of a few pairings they should try with the selections.
12. Choose a Live Band
There's nothing quite like live music. There's something special about having a live band at your wedding reception. If you can't give up hearing the artists sing their songs, you could choose to alternate between a D.J. and a band.
13. Get Intimate with a Bonfire
Not only are bonfires super unique when it comes to wedding receptions, but it's a great excuse to snuggle up to your new husband or wife. It's also a perfect opportunity to roast a couple marshmallows for s'mores. Can't go wrong with that.
14. Have A Videographer Create a Special Video
Set up a booth for confessional-style videos, then have your videographer put them together for you to enjoy for years to come. It's fun for you to reflect on, but your guests will also love having to chance to tell you how special you are.
15. Have a Family Style Meal
Instead of serving a buffet-style dinner or individual plates, meet in the middle and serve a family-style meal. It's different and it's intimate and kind of fun.
16. Serve A Different Dessert
No pie? No cake? What about cookies and milk, or fruit and sweets with a chocolate fountain. The possibilities are endless. Speaking of dessert...
17. Have an Ice Cream Truck
...you could have an ice cream truck. Hire an ice cream truck to come park outside your venue and invite your guests to come and pick a sweet treat. It's nostalgic, unique, and most of all, it's tasty!
18. Instead of Favors, Plant a Tree or Plant for Each Guest
Help protect the Amazonian rain forest by planting a tree in your guests' honor instead of giving them favors. It's inexpensive and it helps the environment. Win-win.
19. Have Your Local ASPCA On-Site for Dog and Cat Adoptions
Everybody loves puppies, and what better way to have some sweet cuddly pups at your reception than by encouraging your family and friends to take one home! It doesn't have to be the ASPCA. You could choose a local rescue or charity that's near and dear to your hearts.
20. Have a Casino Night
How's your poker face? Invite your friends and family to a casino night! Roll the dice, play your hand, or give the slots your best shot. A casino night is a unique way to celebrate your nuptials.
21. Rent a Bounce House
This is definitely a departure from the ordinary. Rent a bounce house and encourage your guests to get in touch with their inner child and get their bounce on.
22. Have a Coffee Bar and Barista
All worn out from the bounce house? Stop by the coffee bar with a barista and ask them to fix you something with an extra shot of espresso.
Having an offering for non-drinkers or even just a departure from the usual is fun and unique.
23. Drinking Games
Two words: beer pong. It's not what you'd typically think of for a wedding reception, which is just what you need. Don't forget about flip cup, either.
24. Hire Food Trucks
Don't box your guests into one cuisine! Hire a few food trucks to come and serve up hot, fresh food. Your guests will be talking about your party for years to come.
25. Hire a Caricature Artist
Caricatures are fun souvenirs to take home, so why not hire a caricature artist or two to do some drawing during your reception? It's a perfect way to wrap entertainment and favors into one.
26. Hire a Fortune Teller
Will your second cousin finally find love? Help her find out by hiring a fortune teller! Sure, it's kind of hokey -- but it's also really fun.
27. Have Custom Wine and Beer Bottle Labels Made
This can be for the wine and beers you're serving to guests, or as a favor for guests to take home. Having a wine bottle with the wedding date and your names on it is a really cool way to commemorate the day.
28. Provide Disposable Cameras to Your Guests
Put some disposable cameras out on the tables for your guests to take photos. Not only will you get some great shots (and probably some pictures of peoples' fingers too, that's inevitable), but it's another way to entertain your guests. A venue like a barn is a great backdrop for photos!
Need More Wedding Reception Ideas?
Your wedding day is one of the most magical days of your life. Whatever you dream up for your reception and however you choose to entertain your guests will be appreciated and remembered for years to come.
For more wedding reception ideas, check out our mentions on social media. We host weddings here almost every weekend, you're bound to find some inspiration!
---
‹ Back